Tractor Service
Our small, compact tractor gets into places larger equipment can't go!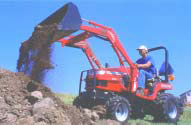 Driveway Grading & Levelling
Planting of Trees & Shrubs
Build/Repair Retaining Walls
Restoration of Flower Beds & Grading Areas
Trenching & Ditching
Shoreline Restoration
Rock Work
Water & Drain Lines
General Excavation
Stump Removal
Install Irrigation Systems
Earth Works of Topsoil, Mulch, Gravel, Beach Sand
Delivery of all Aggregates
Have a special request? Don't hesitate to ask.
We will do our best to accommodate you.
Satisfaction Guaranteed
Call for your Free Estimate - 1-877-836-6861